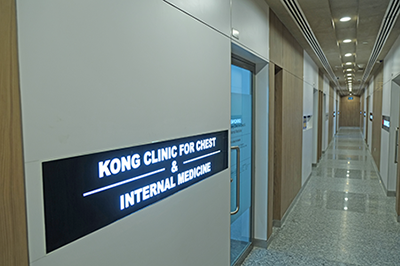 Consultation Hours:
Mondays - Fridays
9.00am - 5.00pm
Lunch Time
1.00 - 2.00pm
Saturdays
9.00am - 1.00pm
Sundays / Public Holidays
Closed
WELCOME TO KONG CLINIC
Kong Clinic for Chest & Internal Medicine offers a full range of services for the management of respiratory problems such as asthma, chronic cough, chronic obstructive pulmonary disease, chronic lung infections as well as assessment and management of general chest disorders. Dr. Kong has a subspeciality interest in asthma and mycobacterial infections of the lung by tuberculous and non-tuberculous mycobacteria.
Inpatient management of patients with chest illnesses are provided for in Farrer Park Hospital, Mount Elizabeth Hospital, East Shore Hospital, Gleneagles Hospital as well as Mount Alvernia Hospital.